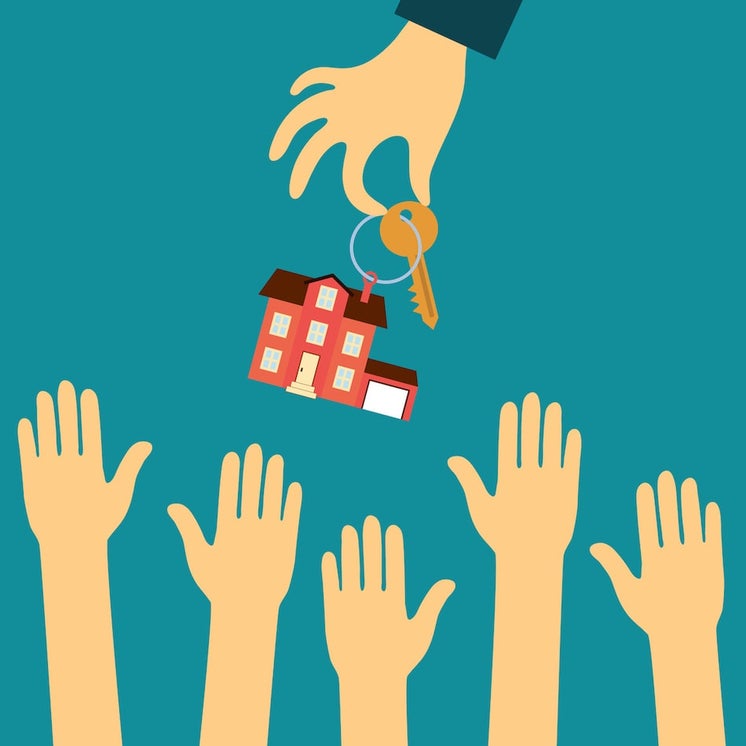 Expand your search. 
Home prices are always higher in the hottest neighbourhoods. Everyone is looking for the ideal home and thats a big competition in a small market. Just because your peers are buzzing about a certain neighbourhood, doesn't mean you don't have the best schools. lower tax rates or better amenities in a different one. 
(Tip) Look a little farther away from the most popular neighbourhoods. Sometimes you can actually get more square footage, larger properties and better amenities for less money. 

Don't wait too long to write that offer. The longer you wait the faster someone else will snag the home, and if you do decide a bit later in the game, all those other buyers will be notified that an offer is coming in. Time is the essence. For some Buyers, they may actually like the competition with risk and want to place a bid. Once you have another bidder, the home price tag rises. 
(Tip) Low balling in a seller's market is not a good strategy. The shortage of inventory, the more the demand, expect competition is going to be fierce. If you really want that property, you have to start with a strong attractive offer and pay more than the asking price. 

Be open to New Builds or Pre-sales. With new builds and pre-sales, you can buy ahead of time and at the price the market is currently. Sometimes buying earlier in a sellers market, could be worth something more in the future. By the time you move-in, your home could be worth more, making it a smart investment.
(Tip) With pre-sales, there is a variation of homes to buy and sometimes it is just first come, first serve. Buying a pre-sale maybe easier for those buyers that aren't wanting to take on the stress in the win.

Have your bank funds/deposits and written pre approval ready. This is the first step that should be done before you even begin to shop for homes. But in a seller's market, the seller will know you mean business and you're ready and willing to close the deal. 
(Tip) Look for homes that are $20,000 or more under your pre-approval's maximum amount. This will give you some room to negotiate. 

Customize but simplify your offer to the seller. Remember that it's not all about price. Tailoring your offer to meet the "needs" of the seller is usually the best strategy for getting your offer accepted. Sometimes that is all about price, but sometimes it isn't. 
(Tip) Look at what the seller wants and is a convenience. Write a strong offer without all the extras. Clean, clear and less subjects the better. Offer strong sale price. Price all depends on how many are in competition with you. If you're in a bidding war, expect to pay over asking price. Coming in low will waste your time. When competition is there, seller's know it and they will be willing to wait for the best and suitable offer that pleases them. 

Less subjects the better. If your offer is filled with subjects such as (home inspection, subject to sale of your home, approval of finances) these can just frustrate the deal. Sellers want things to be smooth and secure and less subjects, the better for them. 
(Tip) Write an offer with less subjects or no subjects at all. It is not always about the price for a seller. During the subjects phase of an offer, the seller has to wait a lengthy time for your release. An offer with less subjects looks attractive to the seller, cause it frees up their waiting time and gives them a peace of mind. Unconditional offers almost win every time. 
However, be cautious not to sacrifice your financial or legal consequences over securing a piece of property.  Waiving an inspection means you would be agreeing to buy the property "as is" and that without careful inspection could lead to financial ruin down the road if you're not in the "know" of everything on that home. 


Write an offer letter.
Every home owner has some emotional attachment to their property and the longer they have lived there, the more "blood, sweat and tears" they have invested. Write an offer about how much you love their home and the benefits that you and your family will receive from living there.
(Tip) Write from a perspective of emotion. The focus in your letter, should be complimentary and include the home's benefits as well as a description of how you envision yourself and your family enjoying those benefits. 
Have a back up plan
. Typically in most offers, the buyer has a mortgage subject in the contract that simply allows them to back out if their mortgage isn't approved. It protects the buyer, but adds uncertainty for the seller. Waiving a subject such as financing, strengthens your offer, even if it isn't the highest one on the table. Remember a pre-approval doesn't mean that you can get a mortgage. Lenders will want to know the house you're purchasing and in their final appraisal, they'll want to know that the house is in good condition and at market value. If certain standards are not met, your lender could refuse your mortgage application.
(Tip) If you're concerned about not getting approved by your lenders, make sure you have a backup plan, such as a co-signer(s) or higher down payment.
Be prepared for a bidding war. 
The longer you wait, the more buyer's view that same property. Once an offer is in the agent's hand, they can notify all the subsequent buyers that an offer is being submitted. Believe it or not, when something looks valuable to one, it looks valuable to others. Competition can strike a cord in someone deep down and could lead into a high stake bidding war. Don't go in naive that you're the only one. 
(Tip) Have your agent watch the neighbourhoods and competitive recent sales. What are all the other houses in the neighbourhood selling at? What is the average? It's important you be educated on what happening out there. If the average bidding war results in approximately $20,000 over price, then at least you have an idea. Knowledge is power. 
 
Higher deposit the more you mean business.   Set a high deposit amount than just the usual 5-10%. A deposit shows the seller that you mean serious business and have an invested interest in their home. Sometimes this helps a seller sway towards trusting you that you're going to complete the sale and come through on your end of the bargain. Make sure that this is the home you want 100% completely. You don't want to walk after an accepted offer, especially unconditional, because you may loose it in the end. 
(Tip) Bring a certified bank draft or cheque and include it in with your offer. 
Let the Seller choose his dates.
Instead of setting a closing date, speak with your agent about checking in with the seller's desirable closing date. Letting the seller choose their own closing date can make your offer look more appealing than the others.
(Tip) leave the closing/possession dates blank on the offer. 
**Keep in mind that a sellers market can put pressure on buyers to buy a home quickly, without being sure it's the right one. While you can't be slow with your home search during these times, be sure you think it through and do your research before jumping into surety. 
This article was written for educational purposes only and is not written for real estate advise.